A systems perspective drives the TSD approach to lean-continuous process improvement; lean-CPI is not merely a string of improvement events or isolated efficiencies.  It is a collection of specific principles, methods and tools, carefully integrated into a problem-solving worker-centric culture that places a premium on quality value-added work and the elimination of waste.
THE SYSTEMS APPROACH
Our approach is founded on a systems-based view of continuous process improvement:
The Client's System – from the very beginning to the very end of the value stream, all the elements of the client's system are interrelated and all changes have consequences;
The 5-Phase Lean-CPI System – originating with Toyota this system, as evolved and applied throughout the world, uses a defined pattern and progression to achieve optimal results.
It is our effective use of this systems approach, illustrated below, that distinguishes us from many other practitioners of lean.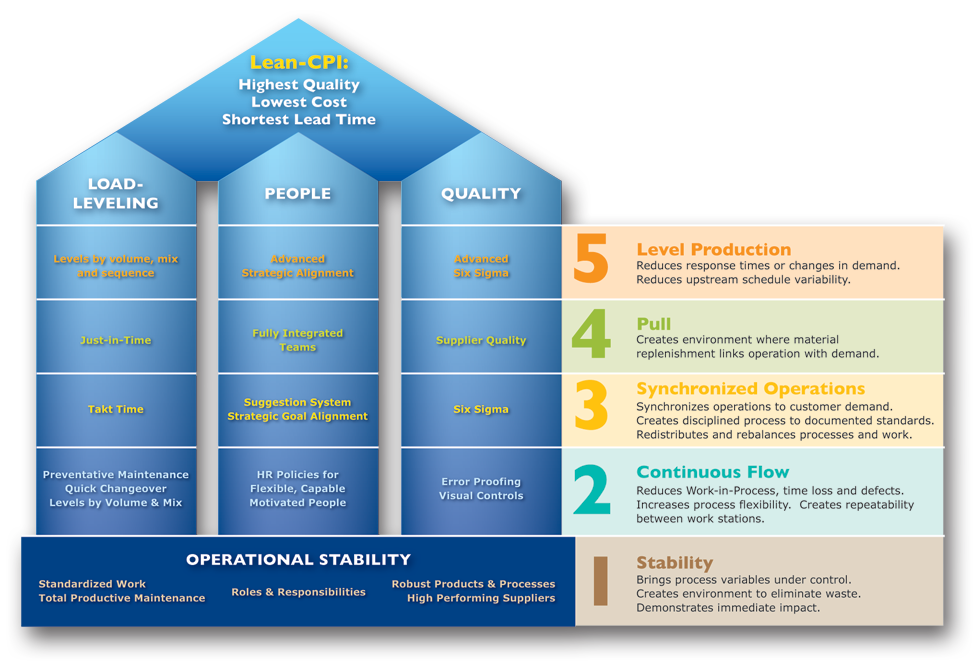 TSD'S MISSION & PRINCIPLES
It is our mission to partner with our clients to create the finest work environment, thereby instilling their workforces with loyalty, creativity, accomplishment and job satisfaction, resulting in the highest levels of customer satisfaction.
Our 9 Principles of Operations
Match TSD methods to your needs, to keep your interests number one.
Create synergy through teamwork.
Treat everyone with mutual trust and respect.
Provide for your growth.
Lift up problems.
Enhance your value stream.
Continuously improve.
Conduct all business ethically.
Value diversity.
HALLMARKS OF EVERY TSD EFFORT
Meaningful results – defined by you!  We never lose sight of the practical returns and the importance of cost effective engagements, defined by lean metrics and your needs and goals.
Lean-CPI Expertise   Our consultants have years of experience and proven track records, with both workforce and leadership.  Our people are not only practitioners of lean-CPI, they lecture and write on the subject for such organizations as the US Air Force and Society of Manufacturing Engineers.
Knowledge Transfer   We focus on the thorough transfer of lean-CPI knowledge so improvements can continue long after our on-site role has ended.  We don't just teach lean-CPI, we show you how to do it and sustain it.
Disciplined Behaviors   We know that culture change doesn't just happen.  We carefully nurture it with a deliberate program of disciplined behaviors that support the development of standards and a problem-solving way of life.