TSD was built, like most small businesses, upon the passions of its founder.  John Allen had learned and lived the lessons of lean from the inside, in both Japan and the US, as the person responsible for all training in Toyota's first North American assembly plant.  He recognized early the value of this new systems approach to continuous process improvement, and was inspired by its potential to revolutionize the way manufacturers would see their operations.  So in 1994 he began a business implementing and training others in lean; he saw an opportunity to serve not only struggling US industries, but the workers themselves, who could only benefit from a system that re-organizes traditional priorities to place their contributions at the top.
As TSD's business grew, so did the number of its lean and change management consultants, most of whom were Japanese-trained Toyota alumni.  This began a policy that continues to this day – seek out the most qualified team members whose proven skills and experiences insure our clients receive the high level of service they come to expect.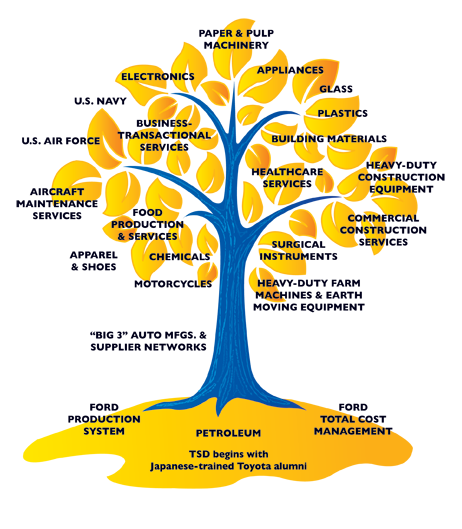 EXPERIENCE
Commerce
TSD has significant lean-continuous process improvement experience in several facets of the fashion shoe and apparel industry, designing and implementing company-wide lean operating systems.  TSD has implemented lean-CPI in a wide range of industries, such as food service and production, surgical instruments, electronics, home appliances, aerospace, chemical, glass, plastics, and light assembly industries, to name just a few.  Our roots are in all facets of the vehicle and heavy equipment industries, with such clients as Ford, GM, Delphi, DaimlerChrysler, Caterpillar, Terex, John Deere, and others.  We were central in developing and implementing certain segments of the Toyota-based Ford Production System (FPS) in Ford and throughout its supplier network.
In addition, TSD has brought lean-CPI to various service and transactional-based organizations and departments like healthcare, aircraft maintenance, insurance, accounting and payroll.
Military
TSD has extensive experience training personnel and implementing lean-CPI improvements throughout the U.S. Air Force, including featured work at Air Combat Command, the 43rd Airlift Wing, and numerous other bases around the country.  We were selected early by the Air Force, under its AFSO21 lean-CPI initiative, to conduct training and improvement events service-wide, and some of our assessment and training tools have been incorporated into the Air Force's standard best practices.  TSD (through University of Tennessee) was an integral part of the lean-CPI training and certification program for the Air Force's Master Process Officers, and TSD performed mapping, training and implementation services for the US Navy's Naval Facilities Engineering Command (NAVFAC) Midwest.
SCALE & GLOBAL REACH
In the shoe and apparel industry, TSD has been responsible for designing, training and implementing lean systems with pilot programs that extended to over a dozen affiliated international sites simultaneously.  In connection with this work, we established Lean Learning Centers to develop organic lean expertise throughout these organizations.  TSD's large-scale implementation experiences include programs with networks in excess of 30 sites, for both Ford and GM.  TSD has conducted smaller, but analogous system-wide implementations for Delphi, ATC and Allied Signal.
TSD's current and past implementation activities span the globe; at times we have conducted lean-CPI initiatives simultaneously across Asia (China, Korea, Taiwan, Vietnam, Indonesia and Sri Lanka) Europe (Germany, Italy & England), the Middle East, and North, Central and South America.  TSD is centrally headquartered in Lexington, Kentucky, and we credit our international successes to a committed and flexible workforce with skillful command of the latest information management technologies.