TSD's approach to implementing lean is straightforward; we solve problems, making improvements and transferring knowledge in a thorough and phased process, all within the context of the Toyota's system-based 5-Phase Implementation Model.
IMPLEMENTATION PROCESS
We begin with an assessment, mapping current and future states.  We follow this with a charter and plan, which are critical documents drafted jointly by TSD and you, outlining:
Your vision and goals
Project's boundaries
Deliverables
Deadlines and criteria for acceptable performance
Your limitations on risk placed upon TSD and the degree of risk the organization will accept in implementing change
Roles and responsibilities of TSD and your organization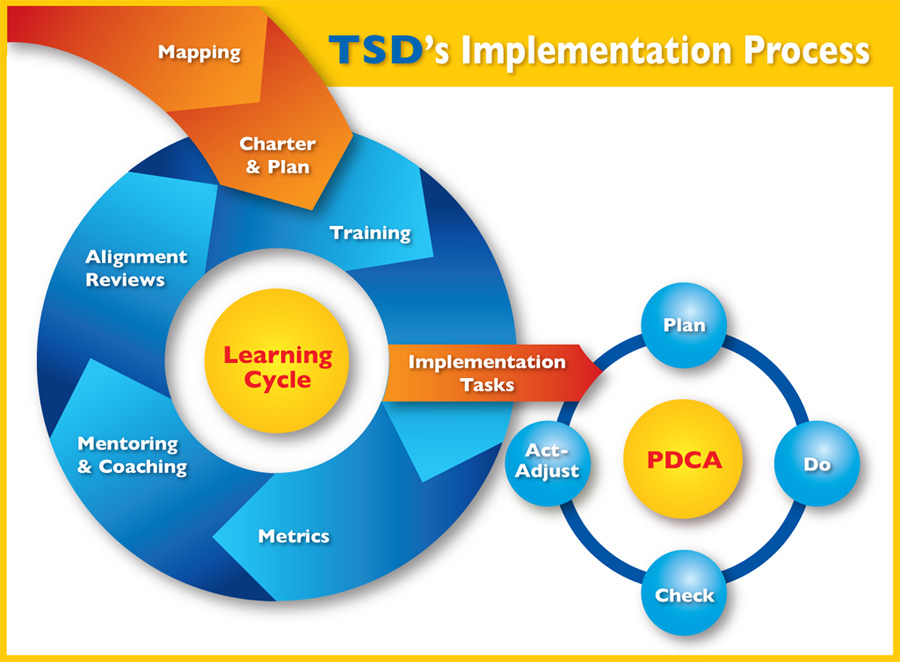 Next, we progress to varying "learning cycles," of training, implementation tasks, metrics monitoring, mentoring and coaching, and alignment reviews.  Their order and emphasis is governed by both our initial assessment and your expectations as defined in the charter and detailed in the plan.
IMPLEMENTATION MODEL
A hallmark of TSD's lean services is our systems-wide perspective, and nowhere is this more evident than in our implementations.  This means we are alert to:
Consequences of change as reflected in your system – its entire value stream
Guideposts to change as reflected in the 5-Phase Implementation Model
This model provides context for your implementation projects, whether large or small.  It helps to insure that our results are sustainable and leaves you with a larger vision and direction to continuous process improvement, even after our on-site role has ended.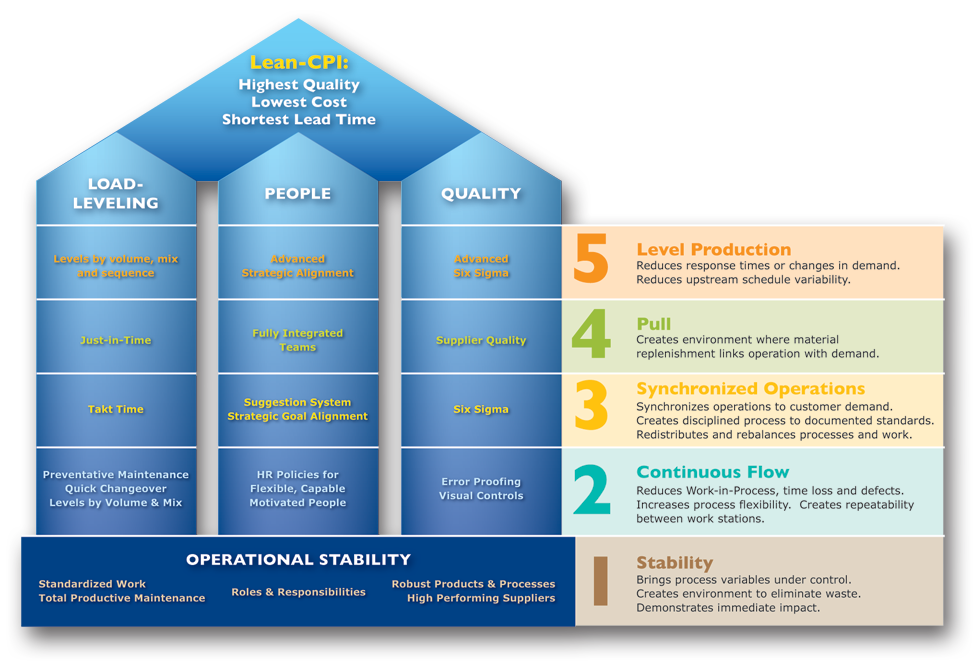 IMPLEMENTATION FEATURES
Every TSD implementation is characterized by:
Engagement – We engage and involve all those in the value chain, from policy-setting leaders to value-producing workers.
Sustainability – We help you achieve lasting change in a systems-based context, not just win periodic and isolated efficiencies.
Self-sufficiency – We provide you the knowledge and the tools to implement continuing improvements, and the mechanisms to sustain them long after we are gone.
Culture Change – We focus on developing a true problem-exposing and problem-solving culture. When problems are elevated to and embraced by leadership, free of stigma and blame, then the transition to lean is complete.