John Allen is an internationally-known practitioner and thought leader in lean systems and change management, who spent the last 20 years as founder and now Chairman of Total Systems Development, designing and conducting lean training programs and implementing lean-continuous process improvement (lean-CPI) systems throughout the world for major multinational corporations and the US Air Force and Navy.  For over two decades, his work as an author, lecturer and broad-based practitioner has made him an expert in lean systems as applied to production, supply chain, logistics, maintenance, and business-administrative operations.  He is a sought-after lean coach and mentor, combining extensive knowledge of lean organizational strategy with years of practical experience guiding industry leaders through the challenges of deploying lean, engaging the workforce, aligning the organization and changing culture.
Mr. Allen has been at the center of the movement to adapt lean principles and methods across the armed services.  He was enlisted by the Department of Defense (DoD) to conduct, with several others, a service-wide best practices survey of process improvement activities within the DoD logistics community.  This led to TSD's role as one of the principal authors of the DoD Continuous Process Improvement Transformation Guidebook, a comprehensive attempt to adapt lean methods to the military.  And this in turn, served as the basis for the AFSO21 CONOPS and Implementation Plan, the US Air Force's guide to lean-based improvement in the Air Force.  Also, Mr. Allen was one of the principal authors of the first USAF AFSO21 CPI Playbook, and an important co-designer of the University of Tennessee Master Process Officer Lean Certification Program.
Formerly responsible for all training for Toyota's Georgetown, Kentucky facility, Mr. Allen's singular insight into the mechanics and culture of lean played an essential role in his contribution to the early development of the Ford Production System (based upon the Toyota Production System) and Ford's Cleveland engine plant winning the Shingo Prize for Manufacturing.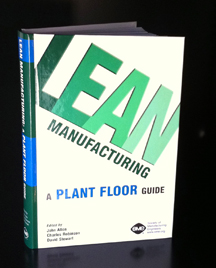 Mr. Allen is a recognized author, co-editing and writing much of the 500-page reference work Lean Manufacturing: A Plant Floor Guide (published by the Society of Manufacturing Engineers), as well as publishing numerous articles on the origins and operations of a lean system, such as The Realities of Culture Change and How It Worked At Toyota; Making Lean Manufacturing Work For You; Choosing The Right People; New Plant Start-up: A Case Study At Toyota; and Making Lifetime Employment a U.S. Reality: The Toyota Experience.
Mr. Allen is a frequent keynote speaker, lecturer for SME's lean public education programs, and seminar-workshop leader on such topics as "Executive Decision-making for Lean," and "Lean and Policy Deployment."  Mr. Allen graduated from Memphis State University with a MBA in management, he graduated of the University of Kentucky with a BS in management, and he completed Harvard University's Strategic Management Program.